Make Your Own Nut Gift Box
Create the perfect gift. Choose any 4 delicious gourmet nuts mixes to include in a beautiful Watanut gift box. Our gourmet nut mixes are not your average assorted nuts or trail mix. We select the finest ingredients, mix each batch by hand, and then package them with care. So they are super fresh and delicious.
Have a sweet tooth? You can also include some of our irresistible gourmet shortbread cookies your box. Made with 100% real butter and baked from scratch daily, they melt in your mouth. Order your own gift box today!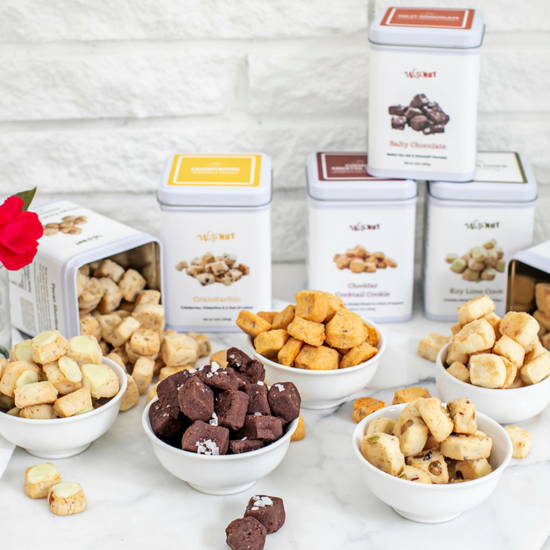 "We received the Holiday Gift Box for Christmas and "Oh My Goodness" it was awesome. I have never been a fan of pecans but I ate most of these myself"
Jennifer on Holiday Gift Box
"the freshest tasting nuts, i have ever eaten."
Maryann M. on Pecan Gift Box
"This is the most delicious, wholesome, filling, just plain yummy mix....you have a customer for life!."
KYB on Beer & Nuts Gift Box
"Awesome flavor nuts: savory rosemary, tiny kick of cayenne (I don't normally like spicy; I wouldn't really call it spicy), and a touch of sweetness to counterbalance"
Lindsay on Roasted Rosemary Nut Mix